RM Sports Events proudly presents:
Keepmoat Stadium, Doncaster – Friday 16th March 2018
After an extremely successful and enjoyable event in April with MJK Sports Events, RM Sports Events are delighted to get the Class of 92 back together for an evening in Doncaster.
April 26, 1992, a date Leeds fans will never forget. It is the day LUFC won the old First Division title. RM Events are proud to bring you an audience with THE REAL CLASS OF 92 – a Class of '92 that took the title in a blur of white.
Take a step back in time and relive the events that are now part of Leeds United's history. Confirmed speakers for this spectacular event so far are:
MEL STERLAND, ROD WALLACE, TONY DORIGO, STEVE HODGE, JON NEWSOME, CHRIS WHYTE, GARY McALLISTER and HOWARD WILKINSON.
Thats not all. As well as the speakers confirmed (above) this list will increase.
On the night , each of the players present will be individually interviewed. After this all of our guests will take part in an audience Q/A session specific to the 92 season. Add in two extended videos from the historic title – winning season and you have an unmissable event for LUFC supporters – an event that will bring the past right up to the present.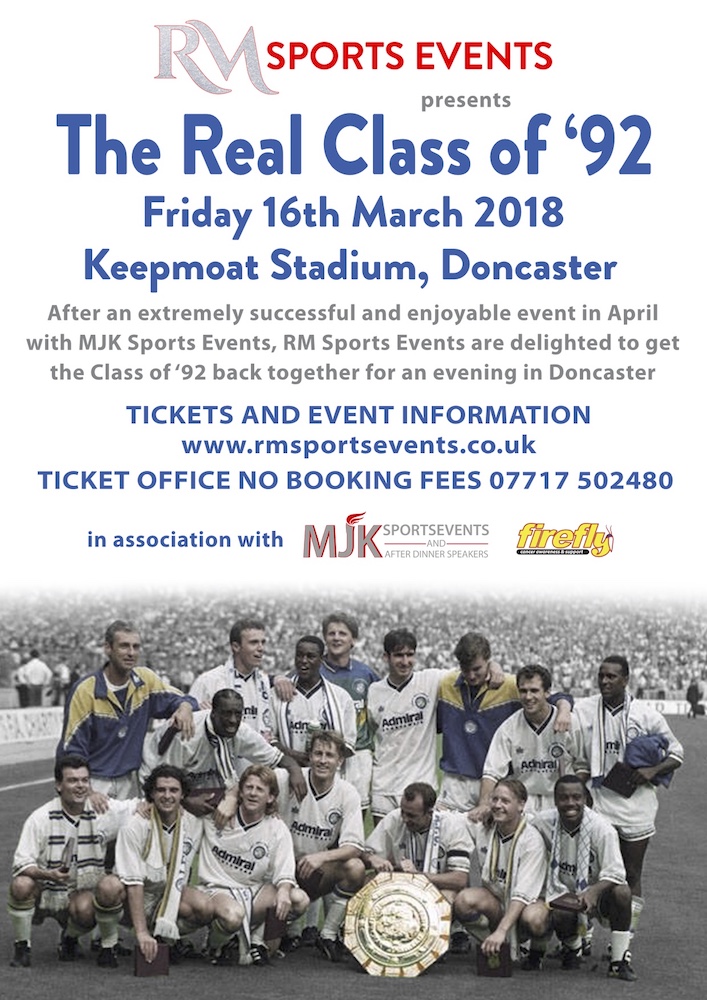 Lets get social, share this event.
Doors open: 6.30pm
Champions main entrance: 7.30pm
Keepmoat Stadium
Stadium Way
Doncaster
DN4 5JW