RM Sports Events proudly presents:
KCOM Stadium, Hull – Friday 1st November 2019
An evening with Six-Time British Superbike Champion Shane 'SHAKEY' BYRNE
Friday 1st November 2019, Kcom Stadium, Hull.
BRONZE TICKETS – £25 EACH – Entry to the show and all the evenings entertainment
SILVER TICKETS – £30 EACH – Entry to the show, all the evenings entertainment plus a professional photo with Shakey , presented to you on the night
GOLD TICKETS – £75 EACH (only 30 available)  30 minute VIP reception with Shakey before the show, food included, meet & greet, professional photo which will be printed and given to you at the end of the night.
On Friday 1st November 2019, RM Sports Events are delighted to bring you An Evening with Six-Time British Superbike Champion Shane 'SHAKEY' Byrne. This event is in association with local charity Firefly Cancer Awareness & Support. Our special guest interviewer for the evening is the fantastic Matt Roberts.
Shakey is a champion that needs no introduction. The only man in British Superbike history to win SIX titles is coming to Hull for one night only, to reveal his career highs, lows and the serious injuries he suffered in competing in the 2018 British Superbike Series. Matt Roberts, a voice you will recognise from the live Moto GP coverage; is the perfect interviewer for the evening.
In 1999, Shakey made his debut in the British Superbike Championship and since then has competed at the highest level. His record to date includes 76 wins and 94 podiums including six british championships in 2003, 2008, 2012, 2014, 2016 and 2017 respectively.
This event is not to be missed and we can't wait to hear the amazing tales of this truly brilliant champion.
Ticket hotline 07717 502 480
Individual and group bookings are accepted.
Food is also available to buy on the night for people purchasing silver & bronze tickets if they wish to.
Dress code is casual.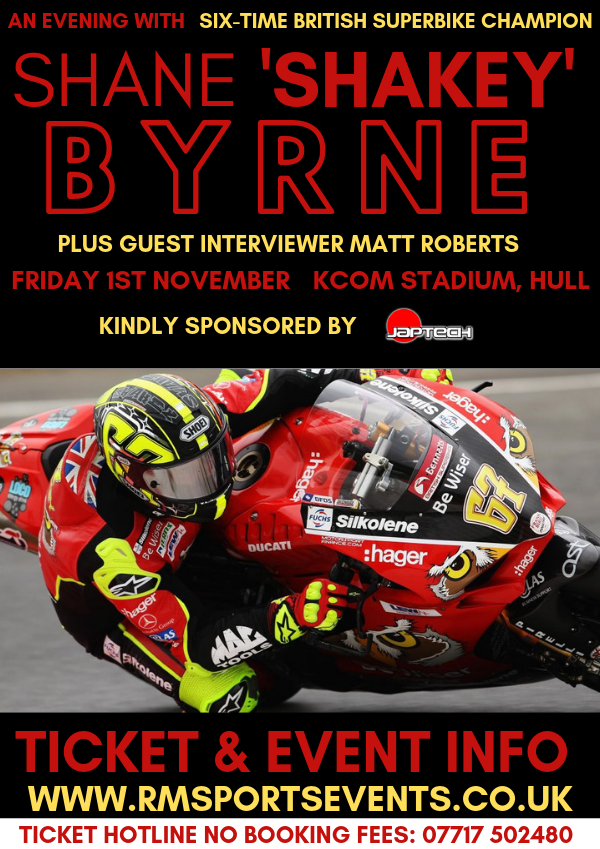 Lets get social, share this event.
Bronze Tickets
£25 plus £2 booking fee

Silver Tickets
£30 plus £2 booking fee

Gold Tickets
£75 plus £2 booking fee

Save booking fees 
 ticket hotline
Food is also available
to buy on the night
for people purchasing
silver & bronze tickets
KCOM Stadium
West Park
Hull
HU3 6HU