RM Sports Events proudly presents:
Wally Lewis – A Christmas Audience with the King
Keepmoat Stadium, Doncaster – Thursday 7th December 2017
RM Events are honoured to be able to bring such an iconic figure from Australia, who is truly a Rugby League legend across the globe and fully deserves his nickname 'The King'.
On Thursday the 7th December we will welcome Wally Lewis to the Keepmoat Stadium, Doncaster.
The King is one of only a handful of players to be named a Rugby League Immortal and was one of the six inaugural members of the Australian Rugby League Hall of Fame. In 2008 Lewis was named as Australia's greatest ever five-eight or stand-off. Bearing in mind some of the players who have filled that position for Australia, that accolade is one of the greatest compliments that could be bestowed upon a man who is simply one of the best players EVER to play the game of Rugby League.
He achieved the greatest honour in Rugby League: the captaincy of his country, but it was his feats as Queensland skipper and playmaker in State of Origin that he achieved legendary status. He played 31 Origin games (30 as captain) and a record 8 Man-of-the-Match awards over a 12-year period.
In the 1983/84 season Lewis had a 10-game stint over in English Rugby League with the famous Wakefield Trinity – ten games where Trinity fans saw one of Rugby League's true greats score six tries.
To see Wally 'The King' Lewis play was to see a player with magisterial grace take to the field, a player with the skill-set and nous that could turn a game with the drop of a shoulder, or a feinted dummy. Players in any sport who are in the very top echelons of that game make things look easy – very few made Rugby League look as easy as Wally Lewis did. Very few back then, very few since.
Simply put, Wally Lewis is, and will remain, 'The King'.
Come and join us to hear some of Wally's great stories, you will also see video footage of Wally's no-nonsense style of play!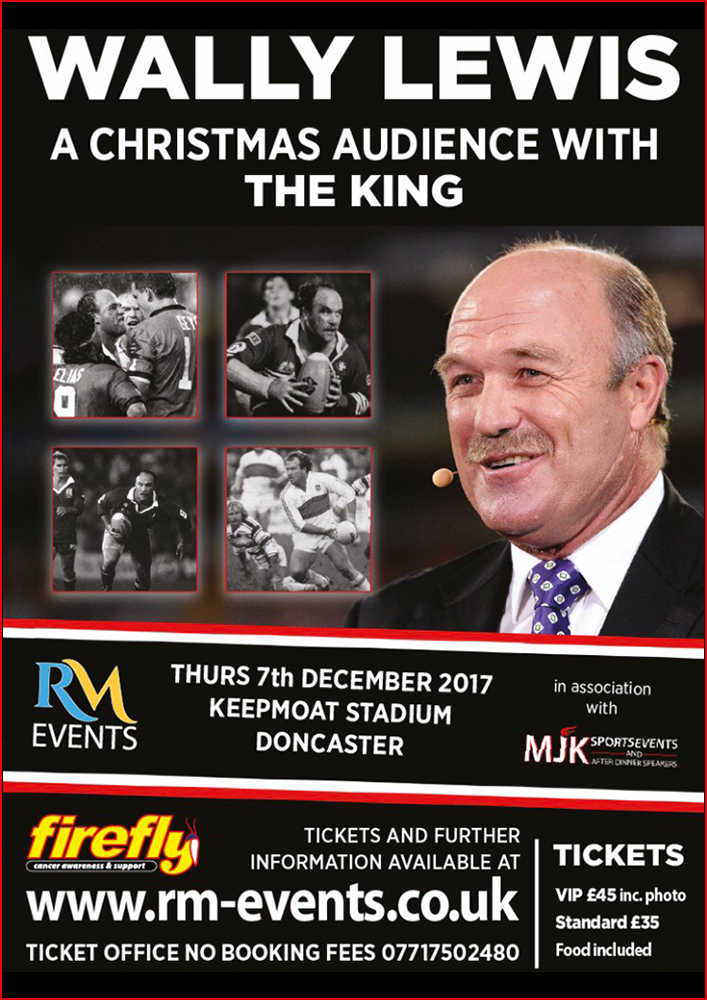 Lets get social, share this event.
Thursday 7th December 2017
Keepmoat Stadium
Stadium Way
Doncaster
DN4 5JW